Free access to Hamburg Games Conference: InnoGames gives away another 100 tickets to students
In cooperation with Gamecity Hamburg and Hamburg-based institutions of higher education, InnoGames has already given away 100 Hamburg Games Conference tickets to students majoring in games. Following the motto "first come - first serve", students of all disciplines can now secure one of another 100 tickets.
"For cost reasons, participation in games conferences is unfortunately not an option for many students, even though they could learn a lot at these conferences. With the 200 tickets we are sponsoring for the Hamburg Games Conference, we now want to make a contribution to changing that. We are looking forward to the breath of fresh air that the students will undoubtedly bring to the event," explains Michael Zillmer, co-founder and COO of InnoGames.
As of now, students of all disciplines can register their interest in one of the 100 tickets via the link https://innogam.es/wnLNtm. Prerequisites are a current study at a German university or university of applied sciences as well as sufficient knowledge of English to be able to follow the contents of the English-language conference.
The first 100 students who meet these criteria will receive a code via email within a few business days, which they can enter in the Hamburg Games Conference ticket system (https://www.gamesconference.com/) to receive a free student ticket.
Important note: Proof in the form of a student ID or certificate of enrolment must be brought to the conference. Without such proof, access will be denied.
Furthermore, it is recommended that all students who might have to travel from outside Hamburg make sure before registering their interest that they will be able to finance any costs for travel and, if necessary, accommodation.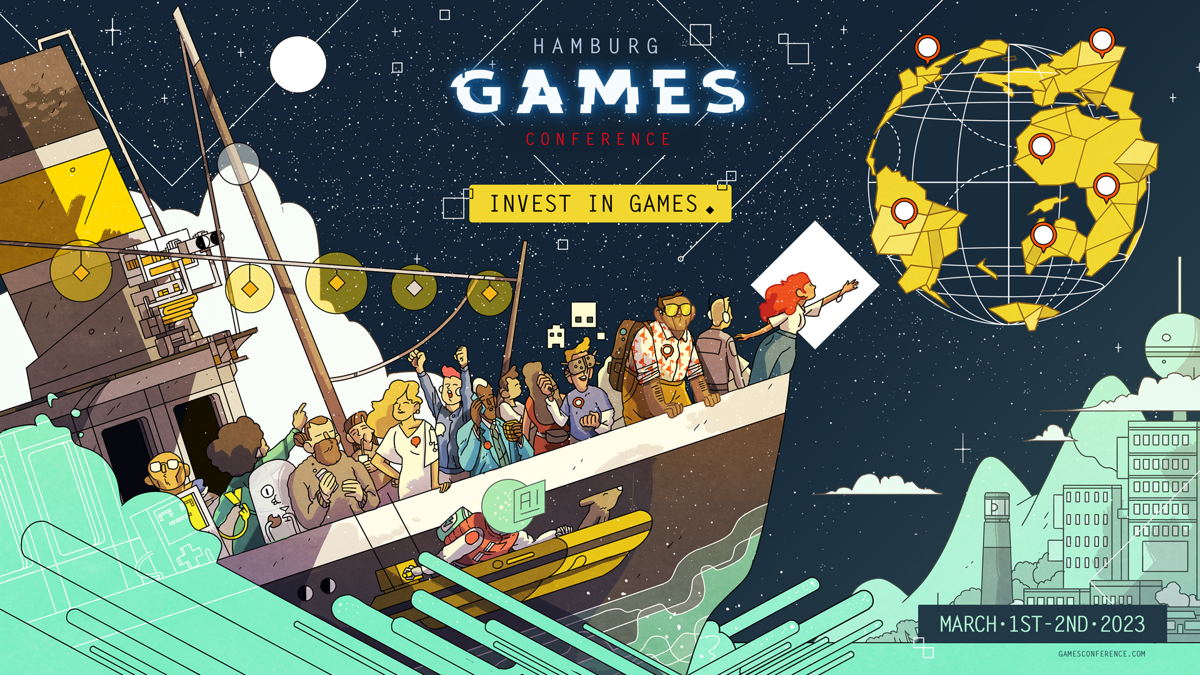 About Hamburg Games Conference
The Hamburg Games Conference welcomes the international games industry in Hamburg on March 1 and 2, 2023. The conference offers a two-day program with keynotes, talks, panel discussions and workshops. And as one of the most important B2B events for the games industry in Europe, it's a valuable platform for networking with European and German games companies. This year's focus topic is "Invest in Games" - international industry experts will discuss trends, developments and challenges of the internationally growing games markets. A second conference track offers hands-on talks on development, start-up and financing topics. More than 30 speakers and panelists, including representatives of companies from Germany, Canada, the UK, Sweden and the Netherlands, will contribute to the program. The location initiative Gamecity Hamburg hosts the conference together with GRAEF Rechtsanwälte. The event agency Super Crowd Entertainment is in charge of production. For more information, visit https://www.gamesconference.com/.
About InnoGames
Hamburg-based InnoGames is Germany's leading developer and publisher of mobile and online games and a certified Great Place to Work®. The climate-neutral company, which is part of Modern Times Group (MTG), was established in 2007 and is still run by its founders. Together with a 400+ strong team from over 40 nations, they create unique games that provide millions of players from around the world with years of fun. While InnoGames is best known for Forge of Empires, Elvenar and Tribal Wars, the company is continuously expanding its portfolio across genres and platforms. The most recent additions are Rise of Cultures and Sunrise Village, which saw successful commercial launches in early 2022.
Marc Morian Senior PR Manager, InnoGames GmbH